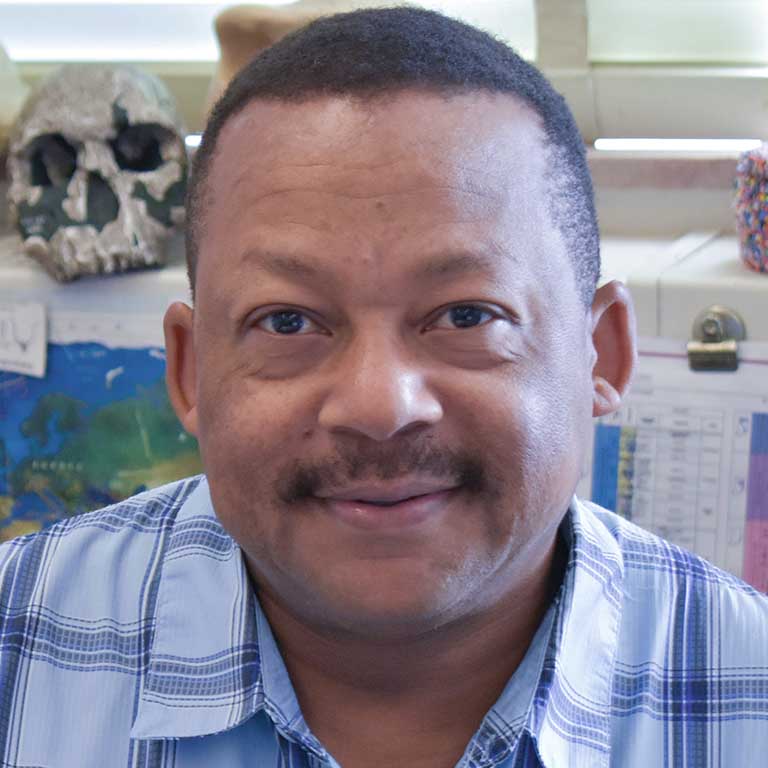 Jackson Njau
Associate Professor, Earth and Atmospheric Sciences
Research Associate, The Stone Age Institute
Adjunct Professor, Anthropology
Affiliate Faculty, African Studies Program, Indiana University
Education
Ph.D., Rutgers University, 2006
M.A., Rutgers University, 2000
B.A., University of Dar Es Salaam, Tanzania, 1992
Research interests
My research seeks to understand the relationship between paleoecology, paleoenvironments and hominin evolution. My research combines a broad range of paleoanthropological methods including zooarchaeology, vertebrate taphonomy, paleontology, geology, and the use of ecologically driven actualistic studies of predator-prey interactions from archaeological perspectives. Over the last fifteen years my research has focused on the role of crocodylian predation on hominin evolution at Olduvai Gorge site, which is perhaps the most famous of all archaeological sites in the world informing on human evolution. Currently, I am co-directing a scientific drilling research program that investigates the continental core records of Olduvai Gorge to understand the paleoclimatic and paleoenvironmental contexts of hominin evolution at high-resolution. 
Research projects
Over the years I have established and collaborate in interdisciplinary research projects focusing on human evolution in Tanzania. They include;
Courses taught
EAS-E 104  Evolution of the Earth
COLL-X 101 Missing Links and Human Origins
EAS-E 227  Earth Climate and History
EAS-X377 Olduvai Gorge Summer Field School
GEOL-G490 Advanced Seminar, African landscapes paleoecology
GEOL-G 561 Paleoecology
GEOL-G 690 Advanced Seminar, Climate Change and Human Evolution in Africa
Graduate student projects
Silvia Ascari M.Sc. Isotopic Analyses of Fossil Bones and Teeth of Herbivores and Crocodiles from Upper Bed I-Upper Bed II, Olduvai Gorge, Tanzania.
Paul Farrugia Ph.D. Crocodylian Craniodental Ecomorphology and Ecological Niche Modeling: A New Approach for Reconstructing Hominin Paleoecology in the East African Rift System.
Danielle Peltier-Thompson Ph.D. Abiotic Influence on Paleoecology and its Implications on the Evolution of Hominin Morphology
Thomas LaBarge M.Sc.
Publications 2021
*Indicates student publication
Njau et al. Palaeogeography, Palaeoclimatology, Palaeoecology 561

Ferland et al. Palaeogeography, Palaeoclimatology, Palaeoecology 562

Torre et al. Journal of Anthropological Archaeology 61

Stollhofen et al. Journal of Human Evolution
Publications 2020
Njau et al. Palaeogeography, Palaeoclimatology, Palaeoecology

Parisi et al. Seismological Research Letters

McHenry et al. Palaeogeography, Palaeoclimatology, Palaeoecology 548

McHenry et al. Palaeogeography, Palaeoclimatology, Palaeoecology 556

Deino et al. Palaeogeography, Palaeoclimatology, Palaeoecololgy

Pante et al. Journal of Human Evolution

Rodriguez-Cintas et al. Palaeogeography, Palaeoclimatology, Palaeoecology

Shilling et al. Palaeogeography, Palaeoclimatology, Palaeoecology

Stanistreet et al. Palaeogeography, Palaeoclimatology, Palaeoecology 546

Stanistreet et al. Paleogeography, Palaeoclimatology, Palaeoecology 554

Stanistreet et al. Palaeogeography, Palaeoclimatology, Palaeoecology 560
Publications 2019-2017
Shilling et al. Palaeogeography, Palaeoclimatology, Palaeoecology

Colcord et al. Palaeogeography, Palaeoclimatology, Palaeoecology

Merritt et al. Journal of Archaeological Science

Lu et al. Palaeogeography, Palaeoclimatology, Palaeoecology

Alemseged et al. Nature Ecology and Evolution

Ascari et al. Palaeogeography, Palaeoclimatology, Palaeoecology

Stanistreet et al. Journal of Human Evolution

Colcord et al. . Palaeogeography, Palaeoclimatology, Palaeoecology

de la Torre et al. Journal Human Evolution (Special Issue)

Pante et al. Journal of Human Evolution

Prassack et al. Journal of Human Evolution

Rivals et al. Journal of Human Evolution

Bibi et al. Journal of Human Evolution

de la Torre et al. Journal of Human Evolution

Uno et al. Journal of Human Evolution

Albert et al. Review of Palaeobotany and Palynology

Pante et al. Journal of Human Evolution
Publications 2016-2013
Njau and Gilbert FOROST (Forensic Osteology)

Johnson et al. Palaios

McHenry et al. Quaternary Research

Jorayev et al. Journal of Archaeological Science

Habermann et al. Journal of Human Evolution

Cherin et al. Bollettino della Società Paleontologica Italiana

Hlusko et al. American Journal of Physical Anthropology

Njau Encyclopedia of Global Archaeology

Masao et al. Africa, cradle of humanity: Recent discoveries
Publications 2012-2003
Njau BOOK: Crocodile Predation and Hominin Evolution

BOOK Crocodile Predation and Hominin Evolution: Landscape Paleoanthropology at Olduvai Gorge. Saarbruken: Lambert Academic Publishing (2012) pp. 323. Amazon

Njau Science

Njau, J.K. (2012) Reading Pliocene Bones. Science 336, 46-47. DOI 

Njau and Blumenschine Journal of Human Evolution

Njau, J.K. and Blumenschine, R.J. (2012) Crocodylian and Mammalian Carnivore Feeding Traces on Hominin Fossils from  FLK 22 and FLK NN 3, Late Pliocene, Olduvai Gorge, Tanzania. Journal of Human Evolution 63:408-417. DOI

Blumenschine et al. Journal of Human Evolution

Blumenschine, R.J., Stanistreet, I.G., Njau, J.K., Bamford, M.K., Masao, F.T., Albert, R.M., Stollhofen, H., Andrews, P., Prassak, K.A., McHenry, L.J., Fernandez-Jalvo, Y., Camilli, E.L., and Ebert, J. (2012) Environments and Hominin Activities across FLK Peninsula During Zinjanthropus Times (1.84 Ma), Olduvai Gorge, Tanzania. Journal of Human Evolution 63:364-383. DOI

Ungar et al. Journal of Human Evolution

Ungar, P.S., Krueger, K.L., Blumenschine, R.J., Njau, J.K., and Scott, R.S. (2012) Dental microwear texture analysis of hominins recovered by the Olduvai Landscape Paleoanthropology Project, 1995-2007. J. Human Evolution 63:429-437. DOI

Renne et al. Geochimica et Cosmochimica Acta

Renne, P.R., Mulcahy, S.R., Cassata, W.S., Morgan, L.E., Kelley, S.P., Hlusko, L.J., and Njau, J.K. (2012) Retention of inherited Ar by alkali feldspar xenocrysts in a magma: Kinetic constraints from Ba zoning profiles. Geochimica et Cosmochimica Acta 93:129–142. DOI

Blumenschine et al. Journal of Human Evolution

Blumenschine, R.J., Masao, F.T., Stollhofen, H., Stanistreet, I.G., Bamford, M.K., Albert, R.M., Njau, J.K., and Prassack, K.A. (2012) Landscape distribution of Oldowan stone artifact assemblages across the fault compartments of the eastern Olduvai Lake Basin during early lowermost Bed II times. Journal of Human Evolution 63:384-394. DOI

Westaway et al. Environmental Archaeology

Westaway, M., Thompson, J., Wood, W., and Njau, J.K. (2011) Crocodile ecology and the taphonomy of early Australasian sites. Environmental Archaeology 16:124-136. DOI

Njau and Hlusko Journal of Human Evolution

Njau, J.K. and Hlusko, L.J. (2010) Fine-Tuning Paleoanthropological Reconnaissance using High-Resolution Satellite Imagery: The Discovery of 28 New Sites in Tanzania. Journal of Human Evolution 59:680-684. DOI

Brochu et al. PLoS One

Brochu, C.A., Njau, J.K., Blumenschine, R.J., and Densmore, L.D. (2010) A New Horned Crocodile From Plio-Pleistocene Hominid Sites at Olduvai Gorge, Tanzania. PLoS One 5(2), e9333. DOI

Louchart et al. Science

Louchart, A., Wesselman, H., Blumenschine, R.J., Hlusko, L.J., Njau, J.K., Black, M.T., Asnake, M., and White, T.D. (2009) Taphonomic, Avian, and Small Vertebrate Indicators of Ardipithecus ramidus Habitat. Science 326:66.

Njau et al. Evolutionary Anthropology

Njau, J.K., Alemseged, Z., Mbua, E., and Pobiner, B. (2009) Fifty Years After Discovery of Zinjanthropus Conference. Evolutionary Anthropology 18:235-236. DOI

Blumenschine et al. Breathing Life into Fossils

Blumenschine, R.J., Peters, C.R., Capaldo, S.D., Andrews, P., Njau, J.K., and Pobiner, B.L. (2007) Vertebrate taphonomic perspectives on Oldowan hominin land use in the Plio-Pleistocene Olduvai Basin, Tanzania. In: Breathing Life into Fossils: Taphonomic Studies in Honor of C.K. Brain (T. Pickering, K. Schick, N. Toth eds.). Gosport, IN: Stone Age Institute Press. Pp. 161-179.

Njau and Blumenschine Journal of Human Evolution

Njau, J.K. and Blumenschine, R.J. (2006) A Diagnosis of Crocodile Damage to Large Vertebrate Bones, With Fossil Examples From Olduvai Gorge, Tanzania. Journal of Human Evolution 50:142-162. DOI

Blumenschine et al. Science

Blumenschine, R.J., Peters, C.R., Masao, F.T., Clarke, R.J., Deino, A.L., Hay, R.L., Swisher, C., Ashley, G.M., McHenry, L.J., Sikes, N.E., van der Merwe, N.J., Tactikos, J.C., Cushing, A.E., Deocampo, D.M., Njau, J.K., and Ebert, J.I. (2003) Late Pliocene Homo and Hominid Land Use from Western Olduvai Gorge, Tanzania. Science 299:1217-1221. DOI