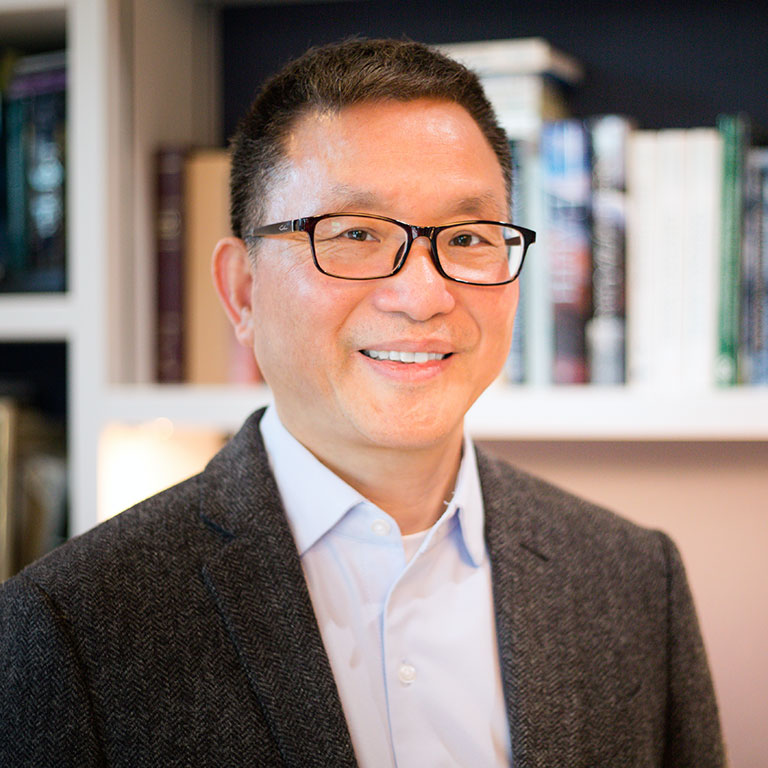 Chen Zhu
Professor, Earth and Atmospheric Sciences
Adjunct Professor, Environmental Sciences
Adjunct Professor, Environmental Health
chenzhu@indiana.edu

Multidisciplinary Science Building II 424
Office Hours
Education
Post-doctoral Fellowship, Woods Hole Oceanographic Institution
Ph.D., Johns Hopkins University
Research Interests
Geochemical Modeling. Hydrogeochemistry and Water Resources. Kinetics and Thermodynamics of Chemical Reactions. Geological Carbon Sequestration (CCS).
CO2-Water-Rock Interactions, Geological Carbon sequestration, Aqueous geochemistry
I study the chemistry of water and its reactions with minerals and rocks. Through these reactions, water acquires chemical constituents and isotopic signatures. The chemical and isotopic signatures are useful to map the movement of fluid flow and allow us to calculate the in situ rates of chemical reactions under geological conditions. On a global scale, these chemical reactions are a key component of the interactions between the Earth's hydrosphere, lithosphere, biosphere, and atmosphere. Many fundamental processes in Earth's geological systems, such as chemical weathering, diagenesis, and the movement, distribution, and global cycling of chemical elements are related to these interactions. Please visit my research site for more information.
Awards + Honors
Henry Darcy Distinguished Lecturer, the Groundwater Foundation, 2021. https://www.groundwater.org/lecture/darcy/darcy.html
Fellow, American Association for the Advancement of Science, 2017
Fellow, Mineralogical Society of America, 2016-present
Fulbright Scholarship, 2009
The John Hem Excellence in Science and Engineering Award, National Ground Water Association, 2006
Lilly Freshman Learning Project Fellow (teaching), Indiana University, 2006
Fellow, Geological Society of America, 2005
Guest Professorship, Swiss Federal Institute of Technology (ETH), Switzerland, 2004
Senior Associateship Award, National Research Council, the National Academy of Sciences, 2003
Post-doctoral Fellowship, Woods Hole Oceanographic Institution
Gilman Fellowship, The Johns Hopkins University
J. Brian Eby Fellowship, The Johns Hopkins University
Waters Fellowship, The Johns Hopkins University
Bauernschmidt Fellowship, The Johns Hopkins University
H. V. Ellsworth Prize in Mineralogy, University of Toronto
Service
National and international organizations
Proposal review panelist, NSF, 2021-2022
Associate Editor, Ground Water 2021-present
Associate Editor, Geochimica et Cosmochimica Acta, 2005-2021
Proposal review panelist, NASA, 2019
Proposal review panelist, US NSF, 2018
Co-convener, American Geophysical Union Annual meeting, December 9-13, 2019, San Francisco, "V021 - Fluid-rock reactions in the crust: new data and methods in mineralogy, geochemistry, thermodynamics and kinetics"
Indiana University and the Department of Earth and Atmospheric Sciences
Faculty chair, Bachelor of Science degree in Environmental Sciences (2015-2021), member, 2021-present  Click here to visit the BSES program
Member of tenure evaluation committee, College of Arts and Sciences, Indiana University, 2019-2021
Colloquium Organizer (2012-2013) (2019-2020)
Chair, Curriculum Committee (2009-2010)
Member, Owen Award Committee (2005-2006); (2021-22)